Methodology and structure
NoAW strategy and methodology is based on 8 tightly connected workpackages, whose leaders have been selected for experience in transnational research activities, internationally recognized scientific knowledge in the area concerned, effective communication skills and enthusiasm.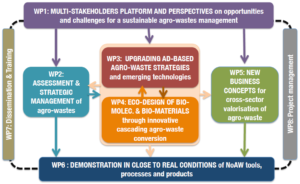 WP1-Multi-stakeholders platform and perspectives on opportunities and challenges for a sustainable agro-wastes management
WP leader: Burkhard Schaer (ECOZ), and Hélène Coussy (UM) as deputy leader
 WP1 is designed to open the dialogue between all concerned stakeholders to bring in their perspectives and views on challenges and opportunities on the route toward a more sustainable agricultural wastes management.
It aims to create opportunity to build and share resources, data, experiences, knowledge, skills and ideas, contributing to a more effective knowledge and data distribution and a better awareness and understanding within EU and China, while providing the right and necessary inputs to the others WPs and ensuring to tackle important points in the implementation phase of the NoAW project.
WP2- Assessment and strategic management of agro-waste in circular, territorial and seasonal perspectives through hybridized approaches and innovative decision support
WP leader: Anna Ekman Nilsson (Rise), and Morten Birkved (DTU) as deputy leader
 The WP2 overall objective is to develop innovative and robust approaches and tools adapted to the assessment and determination of optimal agro-wastes management strategies at appropriate (regional) scale and complexity levels, with consistent guidance.
WP3- Upgrading agro-waste management strategies on a regional basis around an existing technology the anaerobic digestion and connected emerging technologies
WP leader: David Bolzonella (INNOVEN) and Mauro Majone (UNIROMA) as deputy leader
 WP3 aims at providing in-depth knowledge on both "conventional anaerobic digestion" (AD) and advanced AD connected technologies to improve the efficiency of agro-waste management, by promoting wider application (pre-treatments and conversion of recalcitrant ligno-cellulosic streams), better performance (converting biogas into biomethane and biohythane either by post-conversion or two steps AD), safer reuse of digestate (improvement of microbial and chemical quality as well as optimal use) and advanced cascading conversion platform by connecting AD with the conversion of its residue stream into more valuable end-products such as bio-polymers.
WP4- Eco-design of innovative cascading agro-waste conversion into molecules and materials
WP leader: Annamaria Celli (UNIBO) and Hélène Fulcrand (INRA) as deputy leader
 WP4 aims to increase opportunities for agro-waste valorisation in strong interconnection with AD technology by rationally enlarging the spectrum of conversion process and product port-folio. Producing multiple products will enable to step up to an agro-waste bio-refinery strategy, in a manner that seeking zero waste producing, while maximizing the value derived from the agro-waste feedstock.
This objective implies to gain better knowledge and understanding of complex agro-waste conversion routes
before the AD process, through the extraction or production of high value bio-chemicals which will be used as additives, building blocks for new macromolecular structures and fillers for biocomposite;
to further exploit the digestate and upgrade the VFAs stream issued from AD into biofuels, soil amendment and bio-polymers.
WP5- New business & marketing concepts for cross-sector valorisation of agro-waste
WP leader: Jan Broeze (DLO-FBR) and Hugo de Vries (INRA) as deputy leader
WP5 has a fourfold objective:
Understanding existing business models and key success and failure factors for cross-sector valorisation of waste streams.
Identify feasible business opportunities for setting up new clusters based on effective use of energy, waste streams and by-products.
Conceive collective and individual business and marketing strategies for valorising agro-waste and by-products.
Give policy recommendations for facilitating the development of clustered cross sector activities when optimizing energy, waste streams and by-products.
WP6- Demonstration in close to real conditions
WP leader: Thomas Herfellner (Fraunhofer)
 WP6 aims to prove the applicability of NoAW holistic/integrated approach for agro-wastes conversion in close to real conditions, and the availability of a new cascading conversion chain of agro-wastes (defined agro-wastes, area, season, technologies and targeted markets) ready to be demonstrated in full scale and real conditions with NoAW stakeholders and applicable industrial ecology concept
 WP7-Dissemination and training
WP leader: Campden BRI Magyarország Nonprofit Kft
 The aim of WP7 is to ensure the communication and effective take up of NoAW results and new knowledge by the stakeholders through relevant and adapted methods and tools, WP7 will thus promote the use of results and successful practices from the project among specific target groups.
WP8- Project Management
WP leader: Nathalie Gontard (INRA)
The overall management plan is aimed at achieving three main objectives:
At the strategic level, it will steer the project to address all unexpected situations, be these scientific, technological, environmental or political.
At the operational level, it will ensure that the project progresses in conformity with the work plan with regard to overall progress, milestones, deliverables, and planned resources.
At the organisational level, it will optimise the infrastructural set-up to support the project, with special attention paid to financial, logistics, information, coordination issues and in terms of quality and conformity to EC rules and procedures.