NoAW Stakeholder Event 2019
Stakeholders' Event of the  NoAW project – Verona, Italy.
On the 1st October 2019,  Stakeholders' Event of the  NoAW project was organised in Verona, Italy which focus on to discuss new opportunities for  valorisation of agricultural waste through  biogas, biomethane and bioplastic production and to provide their expert view and feedback on the results of the project.
The opening presentation was held by Nathalie Gontard (INRA), the Coordinator of NoAW project. She highlighted issues related to agro-waste management and the possible solutions that NoAW can offer to solve these problems.
The Stakeholders' Event was divided into 2 sessions:
We had on-point, consise presentations in the 1st session presenting the Valorisation opportunities of the agricultural waste through biomethane, biogas production.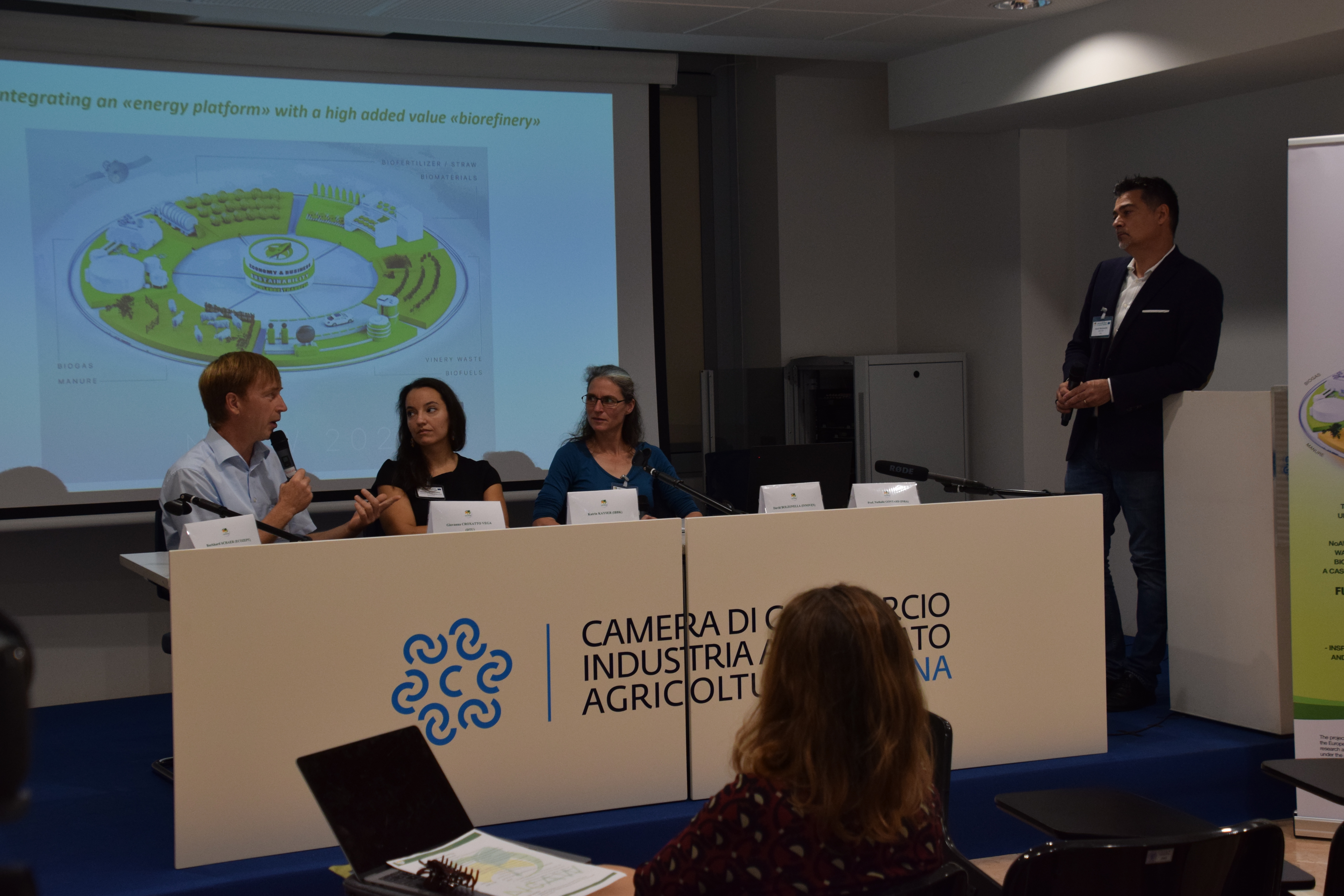 David Bolzonella (INNOVEN) presented the new opportunities on producing high added value biobased products from agro-wastes. This presentation covered the result of the NoAW project on valorising recalcitrant fractions and streams, potentials for produce a naturally biodegradable bio-polyester (PHA) in advanced pilot plant of 2-steps anaerobic digestion and two-step process for biohythane production.
The 1st session was ended with a round table discussion with the involvement of the audience and the panel members: Katrin Kayser (IBBK), Giovanna Croxatto Vega (DTU), Burkhard Schaer (ECOZEPT).
The 2nd session focused on Bioplastics and biopolymer and new business and marketing concepts for the technologies developed.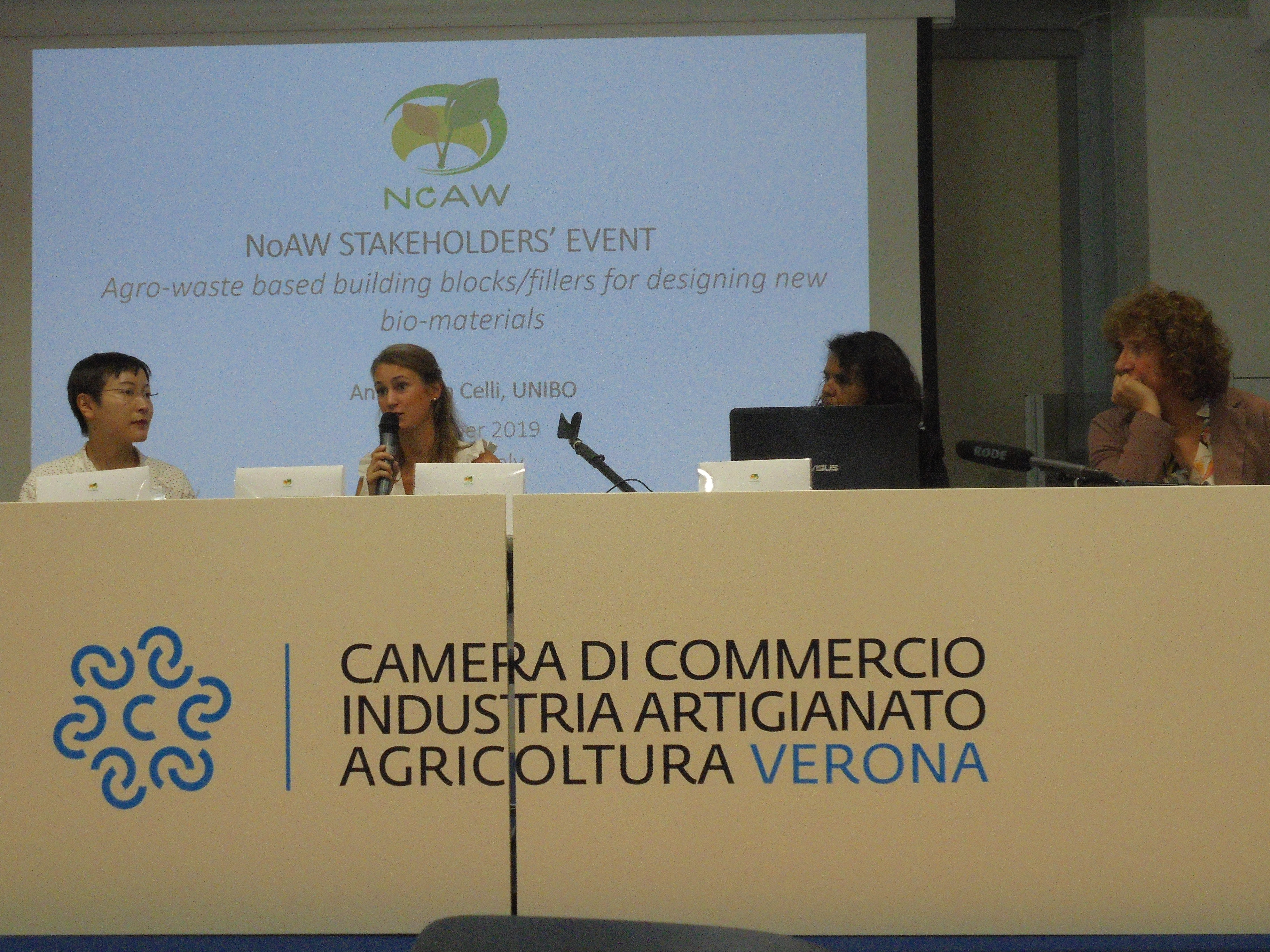 Annamaria Celli (UNIBO) presented the potential routes of using agro-wastes to produce building blocks/fillers for designing new bio-materials. She focused on the valorisation of winery waste through cascading activities and valorisation of the solid residue by producing bio-based composites.
Fatiha Fort (INRA) gave insight about the results of identification of potential markets for three new products (PHA, PHVB and epoxy prepolymer) made from new manufacturing processes developed as part of the NoAW project. The 2nd session was ended with a panel discussion about the opportunities and barriers of biodegradable materials with the involvement of stakeholders, presenters and panel members: Anna Ekman Nilsson (RISE), Carol Sze Lin (SEE).
After the networking lunch Edoardo Righetti and Simone Nortilli were our guide for visiting the pilot plant operating at La Torre farm, Isola della Scala, Verona. The NoAW pilot plant treats mixture of livestock manure and crops silages which are then converted into bio-molecules with a high added value like volatile fatty acids, hydrogen, methane, and poly-hydroxy-alkanoates (PHA), precursors of the biodegradable plastic.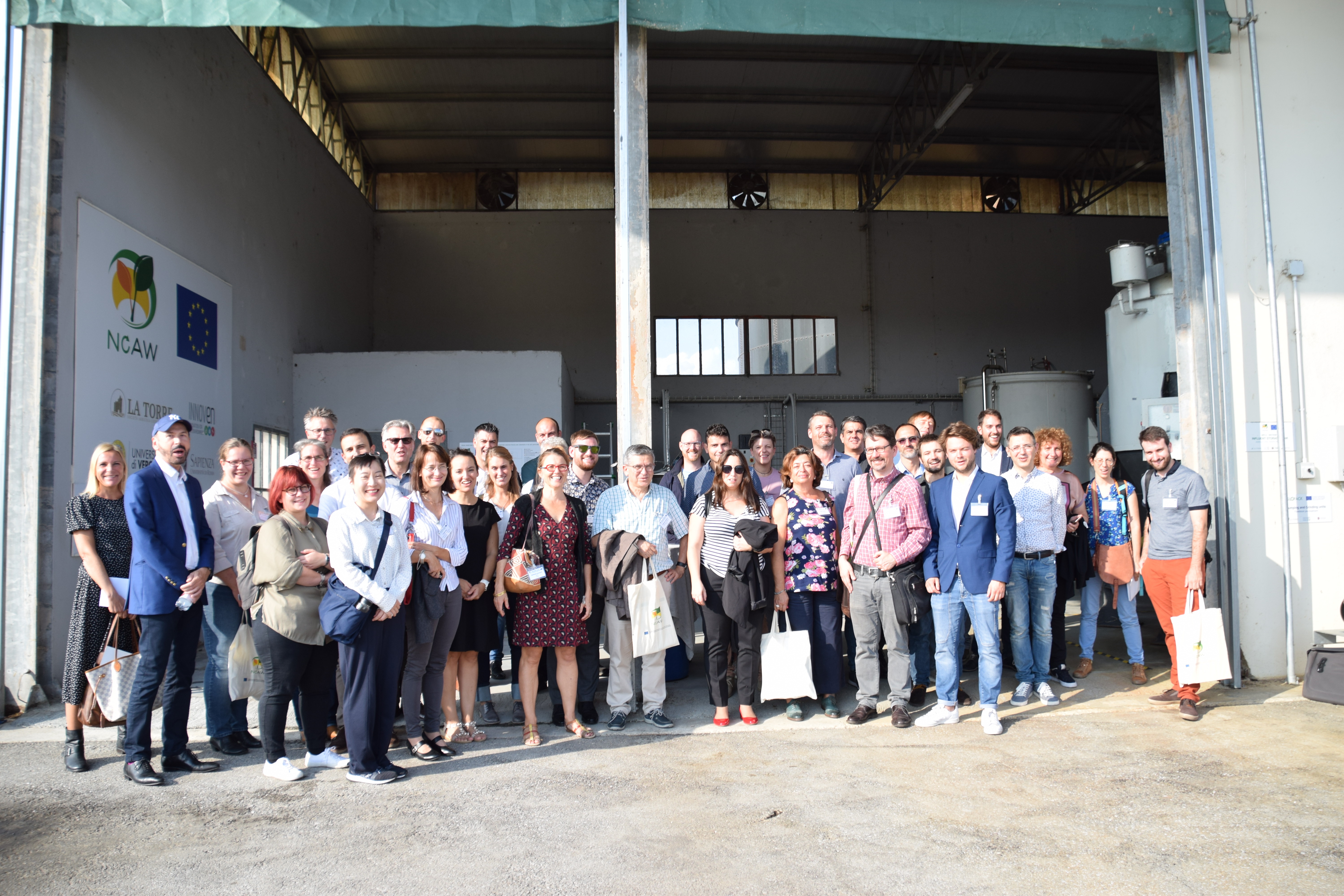 The NoAW stakeholder day ended with a pleasant and delicious dinner at Ristorante "Alle Vigne" in Negrar.