NoAW on Campden BRI Day
2019. June 14. 11:06
We attended to the Campden BRI Open Day in Chipping Campden!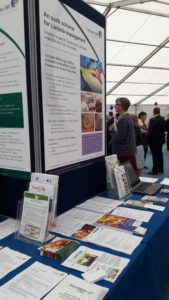 Campden BRI Day 2019 celebrated the 100th anniversary of  Campden BRI in the lovely town of Chipping Campden, UK, on 12th of June. Campden BRI provides the food and drink industry with the practical scientific, technical and advisory services needed to ensure product safety and quality, process efficiency and product and process innovation. Participants of the event had the chance to hear industry leaders speak on the challenges facing the food sector, see the company's work, talk to experts, look around the pilot plant, sit in on expert topical briefings, and network with industry colleagues. Nearly 500 participants visited the event. Plastic packaging was one of the hot topics of the day.
NoAW project was also exhibited and introduced at the professional food industry exhibition by summary leaflets and a presentation shown on a laptop for our stand visitors by Campden BRI Hungary's team.
NoAW project is dealing with innovative approaches to turn agricultural waste into ecological and economic assets and uses circular economy approach for agricultural wastes on a territorial and seasonal scale. NoAW intends to explore the potential of agro-waste to be converted into a portfolio of eco-efficient products which are produced using fewer resources and creating less pollution such as bio-energy, bio-fertilizers, bio-packaging and bio- molecules, in symbiosis with urban waste conversion. The aim, structure, the eco-design concept of NoAW, existing results, and the benefits of being a member of the Knowledge Exchange Stakeholder Platform was highlighted.